Bosjökloster is a privately owned and lived-in residence. The oldest parts of the castle, as well as the gardens and park are open to the public. Bosjökloster receives no public funding; the maintenance of the historical buildings and park are financed exclusively with entrance fees. Thank you for visiting Bosjökloster!
Park and gardens:
open all days, all year
May-September 8am-7pm
October-April 10am-5pm
Restaurant and parts of the castle:
open all days
April 29-September 24
11 a.m. - 5 p.m
(kitchen 11.30 a.m.-3:30 p.m.)
April 29 - June 20 &
Aug 21-Sep 30
Adults SEK 80
Seniors SEK 70

June 21 - Aug 20
Adults SEK 100
Seniors SEK 90

Students SEK 50
Annual pass SEK 150
Children & adolescents up to 18 years free entry!

Special tickets for events.
Pre-booked guided tours:
From 15 persons - SEK 100 per person incl. entrance fee.
Less than 15 persons - SEK 550 + entrance fee
Or ask our staff in the exhibitions to tell you about Bosjökloster and its history!
We accept most credit cards and cash in SEK, DKK and Euro.

Free parking for caravans and campers.

Dogs, on a leash, are welcome to Bosjökloster.
Bosjökloster Castle
Bosjökloster 111
S-243 95 Höör
Tel: +46(0)413-250 48
info@bosjokloster.se
Parish office: +46(0)413-54 47 80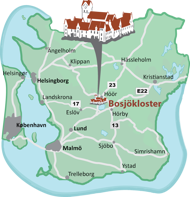 Exhibitions in the Castle, the nuns' vaulted refectory, the herb garden, the beautiful terraced gardens, the romantic park with its animals and thousand year old oak, the children's corner with a mini zoo and picnic house. Borrow a rowing boat for a ride on the lake.
Eat in the café or bring your own picnic.
Guided tours for pre-booked groups.