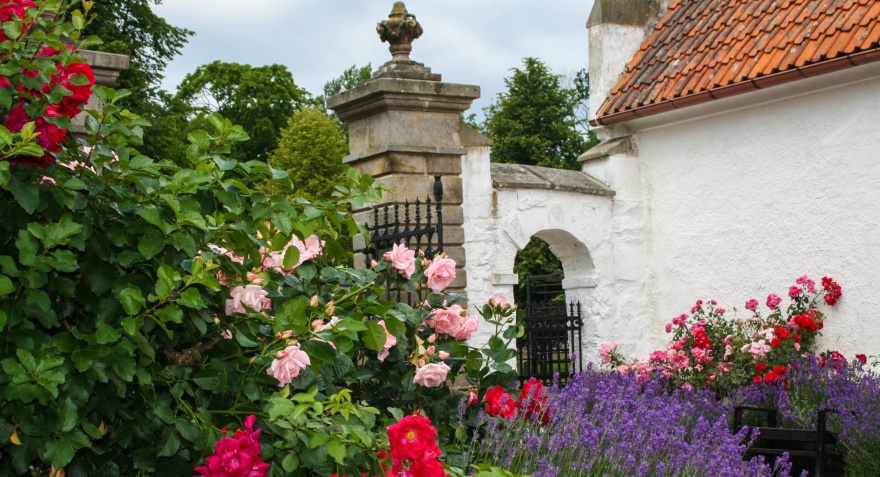 Bosjökloster is a privately owned and lived-in residence. The oldest parts of the castle, as well as the gardens and park are open to the public. Bosjökloster receives no public funding; the maintenance of the historical buildings and park are financed exclusively with entrance fees. Thank you for visiting Bosjökloster!
Plan your visit to Bosjökloster
What's on & opening hours
The park and gardens are open year-round.
The Garden Café and exhibitions in the castle and stables are open May - September, during the Christmas Market and other special events.
Read more about the programme>
Park and gardens:
open all days, all year
May-September 8 am-6 pm
October-April 10 am-5pm
Garden Café and parts of the castle:
open all days
May 1-September 23
11 a.m. - 5 p.m
(kitchen 11.30 a.m.-3:30 p.m.)
We accept group bookings all year for guided tours, as well as lunches, dinners, weddings, meetings and conferences.
May 1 - August 20:
Adults SEK 100
Seniors SEK 90

August 21- September 30:
Adults SEK 80
Seniors SEK 70

Students SEK 50
Annual pass SEK 150
Children & adolescents up to 18 years free entry!

Special tickets for events.
Pre-booked guided tours:
From 15 persons - SEK 100 per person incl. entrance fee.
Less than 15 persons - SEK 550 + entrance fee (max SEK 1500)
Or ask our staff in the exhibitions to tell you about Bosjökloster and its history!
Cash & cards
We accept most credit cards and cash in SEK, DKK and Euro.

Caravans and campers enjoy free parking.

Dogs, on a leash, are welcome to Bosjökloster.

Disabilities?
Bosjökloster should be accessible to all. Disabled persons who are in need of escorts pay full entrance fee; escorts are allowed free entry. Please bring your escort certificate!
Bosjökloster Castle
Bosjökloster 111
S-243 95 Höör
Tel: +46(0)413-250 48
info@bosjokloster.se
Parish office:
+46(0)413-54 47 80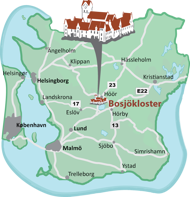 Exhibitions in the Castle, the nuns' vaulted refectory, the herb garden, the beautiful terraced gardens, the romantic park with its animals and thousand year old oak, the children's corner with a mini zoo and picnic house. Borrow a rowing boat for a ride on the lake.
Eat in the café or bring your own picnic.
Guided tours for pre-booked groups.