Bosjökloster has been a meeting place for the past 900 years, when the first nuns gathered on the island. Today, we welcome large and small parties in our historical surroundings.

We can offer a cost effective venue for companies, educational establishments and associations. Please contact the castle administration to plan your day at Bosjökloster!

To celebrate the opening of our new conference hall (with room for up to 150 persons), we are offering a 15% reduced price on all conferences and meetings until March 15, 2019!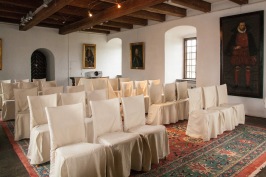 The Stone Hall
Med bjälkar i taket från medeltiden och över 1 meter tjocka väggar, känns historiens vingslag i slottets största rum. Här finns plats för 60 personer i biosittning och 35-40 vid öar. Konferensutrustning installeras efter behov.
september - april (öppet för besökare under sommarmånaderna)
Meetings for 10-150 persons
Starting price 1 600 kr
1 'fika' SEK 95/p
Lunch + 1 'fika' SEK 355/p
Lunch + 2 'fika' SEK 435/p

Whiteboard, paper, pens, coffee/te and candy during the meeting, is always included.

Dinner
2-course SEK 245-320
3-course SEK 325-395
including coffee and non-alcoholic beverages.
Prices assume that all guests choose the same menu (except for allergies and vegetarian option). The Restaurant is fully licensed.
The restaurant serves everything from celebratory dinners to light buffés, as well as lunches and snacks, to keep the energy and focus going. The restaurang is fully licensed.
Please contact us to plan you day at Bosjökloster!
info@bosjokloster.se
0413-250 48

There are several hotels in the vicinity of Bosjökloster.